1. What is a Dunnage Rack?
Dunnage Rack enables the storage of food and perishable items just off the floor in wet, refrigerated chillers and coolrooms. A single or double tier design and open style shelf surface provides for excellent air circulation around the products stored. Capacities of around 450kg per shelf are available.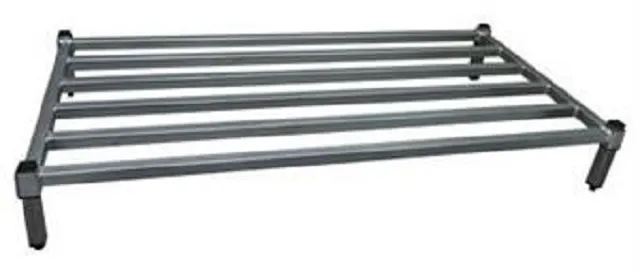 ---
2. Dunnage Rack sizes
A variety of standard shelf heights, bay widths & shelf depths makes this type of shelving suitable for almost any location:
a) Lengths
600mm, 750mm, 900mm, 1050mm, 1200mm, 1350mm, 1500mm, 1650mm or 1800mm
b) Widths
450mm, 525mm or 600mm
c) Heights
Typically a single tier rack has a shelf height at 200mm above the ground. Similarly, a 2-tier rack has a lower shelf height of 200mm and an upper shelf height of 400mm. A 150mm vertical clearances are available between shelves within either design.
---
3. Multiple Level Dunnage Rack
This multi-tiered style is also called Dunnage Shelving. Whilst the single-tier units are not designed to be stackable, there are several options possible when more than one level is required.
Within the Dunnage Shelving post range, 2, 3, 4 and 5 tiers are available with post heights up to 2000mm. This is especially the case when Dunnage style shelving is added to Coolroom Shelving to form a hybrid design. The bottom levels are for heavier use and the upper levels are for lighter use in this scenario.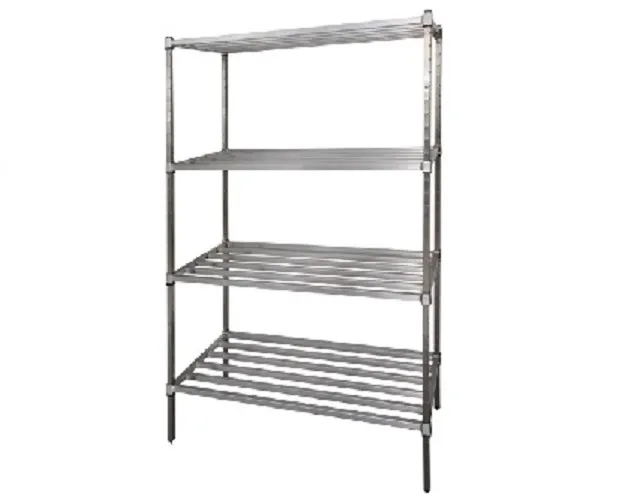 ---
4. Specifications for Dunnage Rack
a) Capacity
Capacities of up to 450kg per shelf and greater are available.
A fully welded option is available for one or two tiered units only for capacities greater than 450kg per shelf.
b) Rack Design Options
Post Design
The standard post style is a medium capacity design. It copes with loads up to 450kg per shelf.
Post heights of up to 2000mm are available to suit multi-tier applications. These 25 x 25mm square tube steel sections come with an adjustable foot and base flange as standard.
Welded Design
The fully welded design is for heavy duty applications in excess of 450kg per shelf. It is available for one or two tier applications.
There is a choice of a Heavy Duty Stainless Disc Foot or Castor under each support leg.
Central Support Leg
The addition of a central support leg is recommended for 1500, 1650 and 1800mm shelf lengths to assist with higher loading.
c) Rack Finishes
Available in either a Stainless Steel or Galvanised finish.
---
5. Availability
Space Rescue have Dunnage Rack for sale. They are made in Sydney NSW.
---
6. Similar Products
Have you seen our Longspan Shelving and Steel Shelving pages?
---