1. What is a Container Ramp?
A forklift Container Ramp is an essential tool for providing safe and efficient access to a shipping container. The ramp enables a forklift to load or unload. Ramps are available for containers resting on the or elevated on truck or trailer.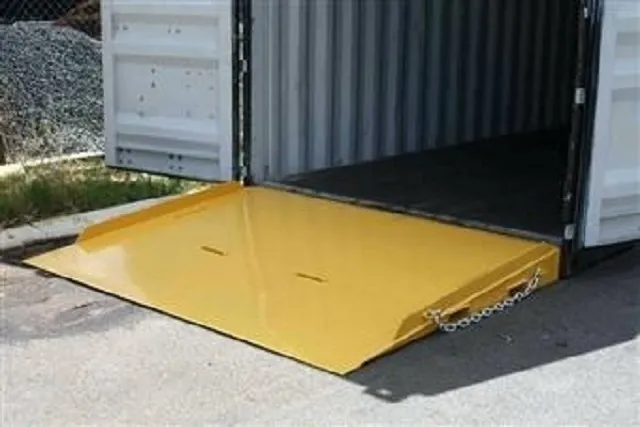 Space Rescue have 7 different styles of Shipping Container Ramps to suit a variety of applications.
A number of Container Loading Ramp options are available each differing in size (length, width & height) and capacity …

i) Compact … 7 Tonne
ii) Standard … 8 Tonne
iii) Guide … 8 or 12 Tonne
iv) Long … 8 or 12 Tonne
v) Reefer (or Refrigerated) … 8 Tonne
vi) Portable … 500 kg to 2500 kg
vii) Yard / Truck … 8 Tonne
---
2. Compact Ramp (CCR)
Our Compact Ramp is the most cost effective and popular forklift container ramp in our range. It provides forklift access to shipping containers. by bridging into standard 10 ft, 20 ft and 40 ft containers from ground level. A forklift is required to move this ramp. Access is using the tine pockets located at the front of the ramp.
Specifications
2200mm wide o/a
2100mm wide ramp surface
1260mm length
180kg (approx) unit weight
7000kg (7 Tonne) safe working load
---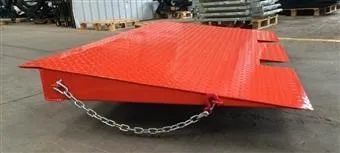 ---
3. Standard Container Ramp (SCR)
Our Standard Ramp is designed with a flip over extension footing and is used for bridging into standard shipping containers from ground level. This ramp can be easily relocated by forklift.
Lifting holes become accessible to a forklift's tines when the footing has been folded over.
Specifications
2200mm wide
2000mm long
275 kg unit weight
8000 kg (8 Tonnes) safe working load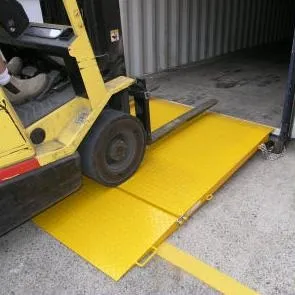 ---
4. Guide Container Ramp (GCR)
Our Guide Ramp has safety side guides to help keep the forklift on the ramp. This ramp has the advantage of being able to be positioned quickly and easily within confined areas. This is achieved with fork pockets on either side plus front flip-ups providing the flexibility to move it into areas with limited space.
Specifications
2320mm wide
1800mm length
440kg unit weight
8000kg (8 Tonne) safe working load … Option 1
12,000kg (12 Tonne, Heavy Duty) safe working load … Option 2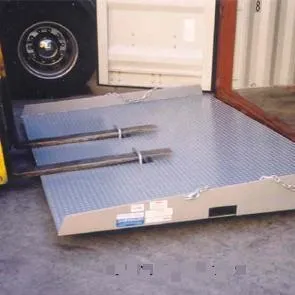 ---
5. Long Container Ramp (LCR)
Our Long Ramp has an overall length of 3 metres that includes a 1.5m long flat horizontal area directly in front of the container opening. The horizontal section enables the forklift to enter the shipping container on a level surface. This permits easy placement and removal of the first and second row of pallets in a container. Fork pockets on both sides plus front flip-up tine pockets provide two options for lifting this ramp by forklift.
Specifications
2320mm wide
3000mm long
600kg unit weight
8000kg (8 Tonne) safe working load … Option 1
12,000kg (12 Tonne) safe working load … Option 2

---
6. Reefer Container Ramp (RCR)
An Adapter Infill piece (pictured) plus a Ramp piece make up the Reefer Container Ramp. This ramp provides access in to the higher 235mm stepped Reefer Container. Standard 20 foot and 40 foot long Containers only have a step height of 145mm.
Specifications
2000mm wide o/a
1454mm long
8000kg safe working load

---
7. Portable Container Ramp (PCR)
The Portable Container Ramp is made out of Aluminium. It has two handles each side making it very easy to carry and move in to position. They are designed to provide easy access in to the Standard 20 foot and 40 foot long Shipping Containers with a Pallet Truck or trolley.
Specifications
1200mm wide
1800mm long
500kg up to 2500kg safe working load options
30 kg approx. unit weight (for the 500kg capacity option)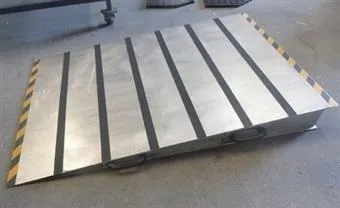 ---
7. Yard Container Ramp (YCR)
In some instances a shipping container is not unloaded from a truck and is left on the trailer. To unload the shipping container by forklift in this position a special type of ramp is used. This ramp is called a Yard Container Ramp.
This ramp removes the need for a side loader and for a suitable location to unload the container.
Benefits
manual hydraulic lifting making it quick and easy to get the ramp operational in the yard without the need for electrical power
large pneumatic tyres make it easy to move this ramp in to position
this ramp has a folding tail and when used makes the ramp shorter and more compact
a flat deck area to make it easier to unload pallets closest to the door.
Specifications for the Yard Container Ramp
2100mm wide
10,300mm long
1,100mm high
8000 kg safe working load
---
8. Features of our Container Ramps
There are various aspects and elements within different Container Ramps styles. Here are some of them.
a) Gussets
Welding gussets on the underside of the ramp to improves the strength of the tread surface plate
b) Raised Side Plates
Raised Side Plates prevent a forklift from driving off the side of the ramp. Welding the plates to the ramp secures them in position.
c) Securing Loops
Welding Securing Loops at the container end enable the use of safety chains to prevent the ramp from being dislodged or slipping away from its position against the container edge.
d) Lifting Points
Lifting Points enable a forklift to lift, transport and place the ramp in to position at the entrance of the container. A variety exist including flip-up tine brackets, front cut-outs and side entry channels. Some ramps have multiple lifting points for added convenience and flexibility.
e) Two-Piece Folding
Thie feature makes it possible to fold the ramp. This makes it more compact for transport and storage. Hand grip loops are provided on the side of the front footing folding piece for this purpose.
f) Angled Top Entry Lips
Angled Top Entry Lips provide a smooth transition from the ramp to the internal base of the container. Another feature of this Top Entry Lip is that it is self-levellng.
g) Horizontal Sections
Horizontal Sections exist on our longer ramps and enable easier retrieval and placement of pallets at the very front of the container.
Typically pallets close to the container doors are harder to access with a sloped ramp as the forklift's tines will also be on an angle whilst the forklift is on the ramp unless the machine is fitted with a mast tilt.
h) Self Levelling Lip
The Self Levelling Lip feature allows for full load capacity when on slightly uneven ground.
---
9. Other Product
You may also be interested in our Forklift Slippers?
---
10. Availability
Space Rescue have plenty of Container Ramp for sale.
---