1. What is Longspan Shelving?
Longspan Shelving suits both small and large bulky products alike due to its long spans, deep shelves and open design.
A large range of heights, lengths and widths ensures we can provide a solution to almost any space.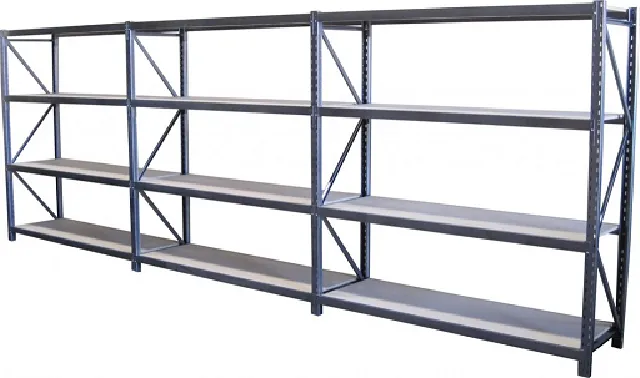 ---
2. Longspan Shelving Dimensions and Sizes
A variety of standard frame heights, bay widths & shelf depths makes this type of shelving suitable for almost any location:
a) Shelving Frame Heights
Options for the frame height include 900mm, 1000mm, 2000mm, 2400mm or 3000mm.
[Note: We can cut these shelving frames to any height if required]
b) Shelving Bay Widths
Options for clear bay widths include 900mm, 1200mm, 1500mm, 1800mm, 2100mm or 2400mm.
c) Shelving Depths
The depth of each shelf may be either 460mm, 600mm, 900mm or 1200mm.
---
3. Long Span Shelving Specifications
a) Longspan Shelving Lengths
The overall length of a run of Longspan Shelving may be determined by adding 60mm per frame to the open beam measurements. This will yield the overall length of the shelving run.
b) Long Span Shelf Materials
Choice of Board, Mesh Decking or Steel Decking
Note: Mesh & Steel Decking are not available in the 1200mm shelf/frame dept
c) Longspan Finishes
Posts and Beams have a dark grey powder-coat paint colour finish. All frame bracing, baseplates (or feet) and hardware have a Zinc plated finish.
---
4. Longspan Shelf Applications
This type of heavy duty shelving is surprisingly versatile due to its clean open design, longer spans and variety of greater depths.
It suits a variety of industrial applications including warehouse and factory as well as retail and office environments.
It can also be found in office back rooms storing archive boxes and other paraphernalia or in home garages acting as heavy duty shelving.
Warehouses
Factories
Mezzanine Floors
Shipping Containers
Retail
Office
Garage
---
5. Garage Longspan Shelving
This style of shelving is ideal for garages where there is a great variety of sizes of things to be stored. Longspan Shelving can be used for storing bikes and gardening equipment to archive boxes and plastic storage tubs. It is ideal for this application due it's open and accessible nature and the large range of shelving heights, lengths and depths available allowing us to fine-tune a design to match your requirement and space available.
---
6. Long Span Shelf Options
We will soon have a page summarising all of our other Shelving options.
---
7. Availability
Space Rescue have Longspan Shelving for sale Sydney, Melbourne, Brisbane, Adelaide and Perth.
---
8. Products related to Longspan Shelving
You may also be interested in our Longspan Workbenches, Mezzanine Floors, Pallet Racking and Bin Rack.
---