1. Overview
Pallet Racking is a steel structure used for the storage of pallets on and above the floor. They mainly consists of frames and beams.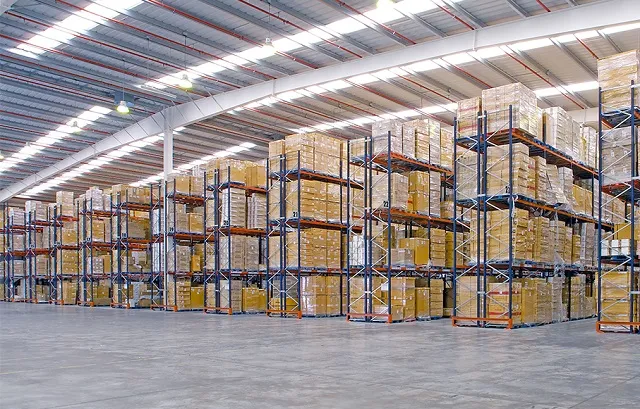 ---
2. Availability & Popularity
Space Rescue generally have good stocks of Pallet Racking available for sale. We deliver & install across Australia including regional areas. Alternatively, you may pick-up from us if you prefer.
Recently we have been quite busy on the Gold Coast.
---
3. Pallet Racking Dimensions and Sizes
A variety of standard frame heights, bay widths & shelf/frame depths makes this type of shelving suitable for almost any location:
a) Frame heights
914mm
1829mm
2133mm
2438mm
3048mm
3658mm
4267mm
4877mm
5486mm
5791mm
6096mm
6704mm
7315mm
b) Beam lengths (or Bay widths)
1372mm
1524mm
1829mm
2133mm
2438mm
2591mm
2743mm
3048mm
3350mm
3658mm
3810mm
4267mm
c) Frame widths (or Shelf depths)
[Note: A frame depth of 838mm suits Australian Standard Hardwood Pallets. Other pallet or skid sizes may work better with a deeper frame and use of Mesh Decks]
---
4. Specifications
a) Overall Length:
This is determined by the number of lengths of pallet racking beams (or clear entry bays) in the run plus the addition of frame thicknesses (or upright width) which is approximately 90mm per frame.
b) Pallet Racking Shelving Material
Choice of Mesh Decks or Pallet Racking Boards
c) Components and Pallet Racking Accessories:
Please refer below for definitions of components and accessories available
d) Finishes
A pre-galvanised (or Zinc finish) is the most common finish now for Posts and End Frames. To save on cost, painting of frames has stopped.
A bright safety orange or blue colour is the most common finish for the beams. The type of paint used is a powder-coat enamel for the beams. Other finishes are also available. We also stock 2nd Hand Pallet Racking.
---
5. Components & Definitions for Pallet Racking
a) Frames
Frames (or end frames) consist of two vertical uprights (or posts or columns) connected by frame bracing.
b) Bracing
Bracing is the term given to slim strut like members that are used to join two uprights together in a truss like manner. There are two types; horizontal and diagonal frame braces.
c) Base Plates
At the bottom of each upright is the baseplate or fottplate. Each upright imparts a vertical point load in to the ground. The footplate spreads this vertical load in to the slab more evenly. The baseplate secures the structure to the floor with the use of floor anchors.
d) Beams
Beams are horizontal members used to directly support the loads imparted by pallets and shelving set-ups.
e) Double Deep Rails
Double Deep Rails are used in Double Deep Pallet Rack and run from the aisle to the rear storage location to help the forklift operator safely and correctly position individual storage units or pallets.
f) Pallet Rails
Pallet Rails run from the aisle to the rear pallet location to help the forklift operator safely and correctly position pallets. These are common in Double Deep structures. (refer to section 5 below)
---
6. Selection of type of Pallet Racking Storage Structure
Depending upon the nature of the business, a combination of types of pallet storage structure may be employed to optimise your operation.
You will need to consider the following pallet factors when selecting the most suitable storage structure:
type of pallet
size of pallet
weight of pallet
accessibility of pallet
commonality of pallet
---
7. Static Pallet Racking Structures
Static Structures are those Pallet Racking structures that do not move. The pallet or stored item does not move either after storage.
a) Selective Pallet Racking
Selective Racking is the simplest and least expensive type of space rack, pallet storage structure or warehouse racking solution. It is ideal for use in situations where you require access to each individual pallet. The most common type of structure is Selective.

This style of rack consists of vertical 'Frames' (a frame is made up of two uprights with diagonal cross bracing) and horizontal 'Beams'.
b) Drive In Racking
Drive In Racking consists of multiple lanes for the storage of multiple identical pallets. It suits warehouses where there are many pallets with a lesser number of SKUs ('stock keeping units').

It is one of the most space efficient storage systems available. The reason it is such an effective way to store your pallets is due simply to the reduced number of forklift access aisles to service a high quantity of pallets compared with Selective or Double Deep structures.

Pallets within each lane (or bay, made up of multiple storage levels) need to be identical as you are only generally able to access the pallet that is closest to the aisle. With this system, the forklift drives into a lane to deposit and retrieve pallets from this integrated rail and post structure.
c) Double Deep Pallet Racking
Double Deep Racking is recommended for those businesses with a range of SKUs ('stock keeping units') that require multiple pallets to fulfill safety stock levels. It is the second most common type of structure used.

As the name suggests, pallets are stored two deep from an aisle. The rear pallet may not be accessed until the front pallet (ie. the pallet closest to the aisle) has been removed. Due to pallet commonality, this does not create a problem unless there are stock rotational requirements due to expiry date issues.

This style of rack requires a special forklift with the ability to reach in to the second pallet position. Depending on the type of forklift used, it is sometimes recommended that pallet guide rails be used on the upper levels to assist the forklift operator place and retrieve pallets safely on upper pallet storage levels.
d) Narrow Aisle Racking
Narrow Aisle Racking achieves higher storage to footprint ratios than Selective of equivalent pallet storage capacity. Smaller aisles take up less space.
Special forklifts and picking machines service these aisles.

For very tall structures on a large footprint (aka High Bay Warehouses), it is not uncommon for automated cranes to service them. With the economies of scale, the great expense of an ASRS (Automated Storage Retrieval System) with its speed and tireless 24/7 endurability can be justified.
e) Cantilever Racking
Cantilever Racking is a great way of storing long products such as pipes, tubes and long crates. Arms positioned at the same height creates a storage level. Support arms join to the post on one end only. This to provide open access on the aisle side. Both single and double sided structures are available.
f) Vertical Racking
Vertical Racking is a great way of storing long, light products such as conduits and tubes vertically.
g) Workbenches
Pallet Racking makes up a Pallet Rack Workbench. They are particularly sturdy. By joining bays together, you will be able to create any length of workbench.

---
8. Dynamic Pallet Racking Structures
Dynamic Structures are those racking systems where the product and/or structure moves as part of it's operation.
a) Push Back Racking
Push Back Racking offers the 'best of both worlds' in terms of greater selectivity and a lesser number of forklift aisles. Pallets stored within this structure by pushing them up individual lanes that consist of a line of gravity rollers.

The one bay stores different pallets without limiting selectivity. The one level stores pallets of identical make-up to achieve this. This is unlike a Drive-in Rack. 'FILO' or First-in, Last-out movement of pallets does not suit product with expiry dates.
b) Flow Through Racking
Flow Through Racking offers several major advantages including dense storage, limited aisle space requirements, good selectivity and excellent stock rotation.

On the contrary, these structures, with their gravity wheel lanes, are more expensive when comparing the cost per pallet storage position.
c) Mobile Racking
Mobile Racking achieves greater storage density whilst maintaining selectivity by moving the rack to create the aisle. Multiple runs require only one aisle space. When rows of rack create this movable aisle space you can access particular pallets.
---
9. Accessories for Pallet Racking
a) Upright Protectors
Upright Protectors protect the upright from damage and are available in a variety of types. Impact from a forklift is the most common cause of damage.
b) Pallet Rails
Pallet Rails run from the aisle to the rear pallet location to help the forklift operator safely and correctly position pallets.
c) Mesh Decks
Mesh Decks provide extra protection for skid or non-standard pallet sizes. They also provide shelf storage within pallet racking.
d) Pallets & Skids
Pallets and skids provide a strong stable base for placing products on. The materials used to make pallets and skids is timber, aluminium and steel.
e) Pallet Cages & Stillages
Pallet cages & Stillages contain loose items within the confines of a pallet footprint. They simplify the handling of product.
---
10. Applications for Pallet Racking
Pallet Racking is essentially shelving for pallets or skids. Lower shelf levels store other product in many situations. Placing boards or mesh decks on top of the beams (or rails) will create Pallet Rack Shelving or Industrial Shelving.
With a clean open design and a choice of either board, mesh decks or fork entry bars, Pallet Racking may be used for a large variety of applications within warehouses, factories, industrial chillers & freezers and industrial units.
---
11. Pallet Racking Services
Our offering includes pallet racking installation and pallet racking inspection.
---
12. FAQ
What is Pallet Racking?
Pallet Racking is the generic term given to describe a range of different types of steel structures that are used for pallet storage in warehouses and industrial storage facilities. The most common and least expensive of these is called Selective Pallet Racking. It is essentially made up of end frames, floor anchors and beams. In general terms, it is the least expensive of the Pallet Racking family and its name describes a rack structure whereby every pallet is accessible, or may be selected, from the forklift aisle.
How do calculate the length of Pallet Racking?
To calculate the length of a starter bay, you would simply need to add the widths of the two end frame or posts (typically around 90mm) on both the left and right side plus the beam length. The designated beam length represents the distance between the left and right hand end frames. It is also called the clear entry bay width. For each add on bay, you would need to add the beam length plus one end frame width.
---
13. Other
a) When additional working floor space is required in combination with pallet or shelving storage, a Mezzanine Floor supported by pallet rack is often used.
b) You may also wish to refer to our Pallet Rack Workbenches and Longspan Shelving pages?
c) Space Rescue will often buy back your used or second hand depending upon its condition. Please refer to our 2nd hand options.
---