1. What is Cantilever Racking?
Cantilever Racking is an ideal structure for the storage of long products. The main elements of this structure are the vertical posts and the horizontal arms. Products are stored on the horizontal arms at various levels.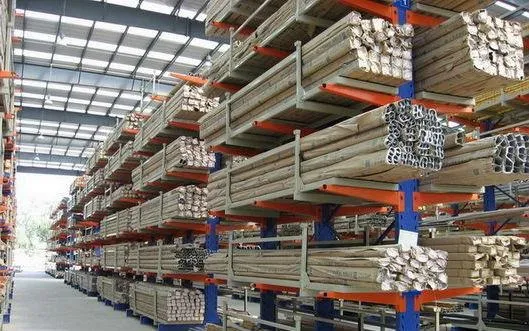 ---
2. Cantilever Racking Dimensions and Sizes
a) Rack length
The length of a Cantilever Rack may be calculated by adding the width of one column to the sum of the column centres.
b) Post / Column heights
2m, 2.4m, 3m, 3.6m, 4.2m, 4.8m, 5.4m and 6m
c) Column centres
900mm, 1200mm, 1500mm, 1800mm and 2100mm
d) Arm lengths
700mm, 900mm, 1200mm and 1500mm
e) Arm capacities
[based on a Uniformly Distributed Load]
260kg, 350kg, 450kg, 1000kg and 1300kg
---
3. Cantilever Section
Below is a rough sketch of a sectional elevation for one type of Cantilever within our range.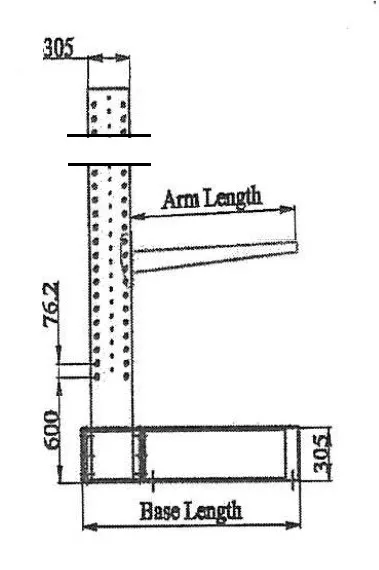 ---
4. Specifications for Cantilever Racking
a) Size
The length may be calculated by adding the width of one column to the sum of the column centres.
b) Configuration
i) Single sided structure
A single sided Cantilever Rack is accessible from one side only.
ii) Double sided structure
A double sided Cantilever Rack is accessible from both sides.
iii) Column spacing
The horizontal post spacings ares calculated to suit the product length. This spacing has a direct impact on the spacing of arms supporting product on a particular level.
iv) Arm spacing
Vertical spacing between arm levels is dependent by the pack height and flexibility of the product.
c) Floor Anchors
Floor anchors are necessary to secure these structures to a concrete slab floor to prevent them from tipping over.
d) Finishes
Powder-coat paint finish, pre-galvanised or hot dipped galvanised
---
5. Forklift Requirement
The storage of heavy or bulky products will require a forklift. Another reason would be if the rack was above two metres. For long or wide products a pair of Forklift Slippers may also be required.
---
6. Applications for Cantilever Racking
Typically used for storing long lengths of pipe, conduit, Aluminium extrusions and timber.
Warehouses
Factories
Retail and Wholesale Outlets
Shipping Containers
---
7. Availability of Cantilever Racking
Space Rescue have a variety of sizes of Cantilever Racking for sale. We distribute to all corners of Australia from warehouses in Brisbane, Sydney, Adelaide, Melbourne and Perth.
---
8. Similar Products to Cantilever Racking
You may also be interested in our Vertical Racking and Pallet Racking.
---