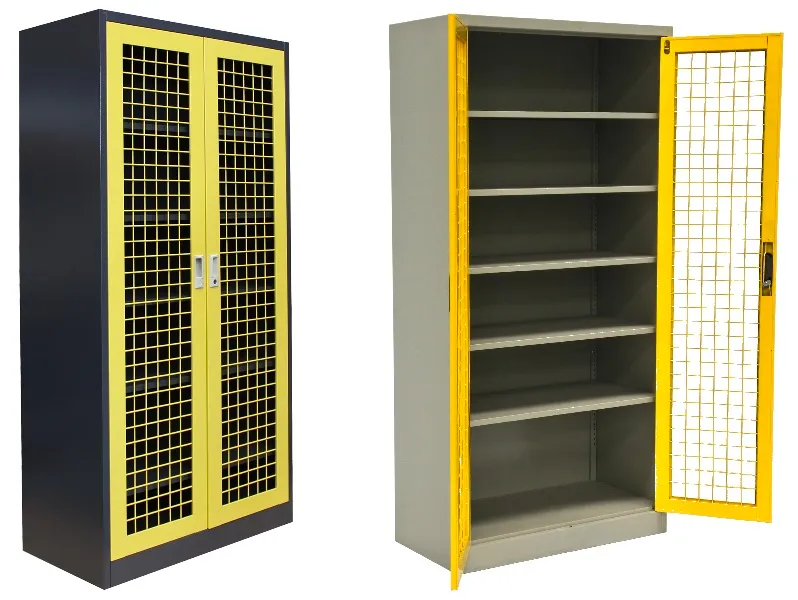 ---
1. Description
A Storage Cabinet is typically used for storing items in a secure manner.
---
2. Specifications for steel Storage Cabinet
a) Size of this Lockable Cupboard
The overall size for this cabinet is 1850mm High x 900mm Wide x 450mm Deep.
b) Shelf Storage Levels
This locking cupboard has 6 storage levels made up of the base plus 5 adjustable steel shelves.
c) Shelf Capacity
This sturdy metal storage cupboard can handle up to 50kg UDL (uniformly distributed load) per shelf. There are a variety of options depending upon the usage, the type of space available, visibility required and the products to be stored.
d) Double Doors of this Storage Cabinet
This lockable metal cupboard has mesh double doors fitted to it . The mesh provides visibility in to the cabinet so that at a glance the user can quickly determine what stock or product is available.
e) Lockable and secure Industrial Cabinet
A uniquely keyed lock is fitted in to the doors of this secure lockable storage cabinet. They are not easy to break in to.
f) Colour scheme
Available with either graphite ripple or light grey sides, backs and shelves with yellow mesh doors.
---
3. Similar Products
You may also wish to viiew our Steel Shelving and Longspan Shelving?
---
4. FAQ
How many doors do your Storage Cabinets have?
Two doors.
---
5. Availability
Space Rescue have reasonable stock of Storage Cabinet for sale across Australia.
---