1. What is a Mezzanine Floor?
By definition, a Mezzanine Floor refers to "a low storey (level or floor) between two others". In a warehouse, factory or shed, the two other stories referred to here are the ground floor level and the roof. In saying that, we can also provide Mezzanine Floors with two raised floor levels.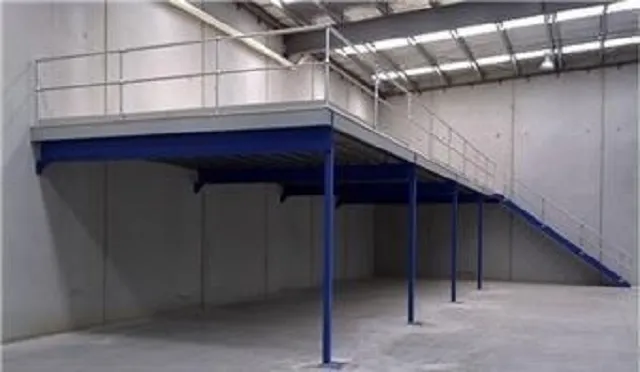 A simple solution to your space needs
Mezzanines are a simple yet highly effective means of increasing the floor area within the confines of an existing warehouse by simply adding in an additional level.
The benefits of adding a Mezzanine Level
Space Rescue are Mezzanine Floor builders with the ability to design cost effective solutions of any floor size and shape to save you the expense in time and money of having to move to larger premises.
---
2. Availability
Space Rescue have been designing, supplying, building and installing Mezzanines for over 12 years in Australia on relatively short lead-times.
We provide Mezzanine Floor for sale Sydney, Melbourne, Brisbane, Adelaide, Perth plus surrounding regional areas. We are very pleased to announce that we now have a new presence on the Gold Coast!
---
3. How would you describe your ideal Mezzanine Floor?
To help you, here is a list of Mezzanine considerations below.
a) Mezzanine size & shape
Note: We can build a Mezzanine to almost any size or shape.
What length would you like your proposed floor to be?
What depth (or width) would you like your floor to be?
Are you able to provide a sketch of the shape you would like?
b) Supports
Note: We can place columns and supports almost anywhere
Do you require a certain spacing between columns?
Would you like us to create a clear area under the floor?
In lieu of some columns, we may be able to create more clear area by supporting the floor using brackets affixed to concrete tilt slab walls ?
c) Mezzanine height
Note: We can build single level or multiple storeys
Top of Floor height ?
Clear underneath height ?
d) Access
Note: This consideration relates to provisions for people and product to gain access.
Where would you like your staircase ?
Would you like a gate for loading materials on to your Mezzanine Level ?
Is there a need for a stair ladder ?
e) Load Rating
Note: you may request a a floor load rating to suit almost any floor loading application.
Will you use your Mezzanine Floor for storage or additional working space?
Will there be high point loads on the floor ?
---
4. Elements and sizes of a Mezzanine Floor
a) Sub-Structure
The Sub-Structure is typically assembled from structural steel components (columns and main beams) as described in Type A below or Pallet Racking (End Frames and Beams) as described in Type B below.
b) Deck
Tongue & groove flooring boards, or mesh decks, make up the deck surface. Floor Boards rest on top of the joists. The main beams support the joists within the sub-structure. Deck height, or the top of the finished floor is generally between 2.4m and 4.5m.
---
5. Mezzanine Storage use
In most instances a Warehouse Mezzanine structure is used to provide additional Mezzanine storage for pallets. When pallets are involved, the use of a Safety Pallet Gate and Pallet Jack would be required. As the Pallet Jack can exert high point loads, it is important to consider this when selecting the flooring material.
A Mezzanine Platform is simply another term widely used to describe a Warehouse Mezzanine used for Mezzanine storage. They are typically found in a warehouse or industrial setting. Similarly, a Raised Storage Area (also known by the acronym RSA) or Raised Storage Platform are two other terms used to describe the same.
What shelving types are used on top of the floor?
We recommend the use of Longspan Shelving or Steel Shelving on top of the floor. Similar to a Pallet Jack, it is important to note that shelving can also exert high point loads on to the floor.
---
6. Mezzanine Office use
It is common practise to increase the working area in a factory unit or warehouse by building a Mezzanine Office above or below the deck of the Mezzanine Floor. This enclosed space is can be used for additional offices, manufacturing, working or assembly areas.
This can all be achieved with the use of partitions. Designs typically consist of stud walls and a combination of windows and doors.
In this scenario, fall protection on top of the floor would be provided by the partitions and hence a guardrail, or handrail, system would not be required.
---
7. Mezzanine Floor plan
To help you understand the terminology, below is a Mezzanine Floor plan and elevation drawing with labels showing the main components.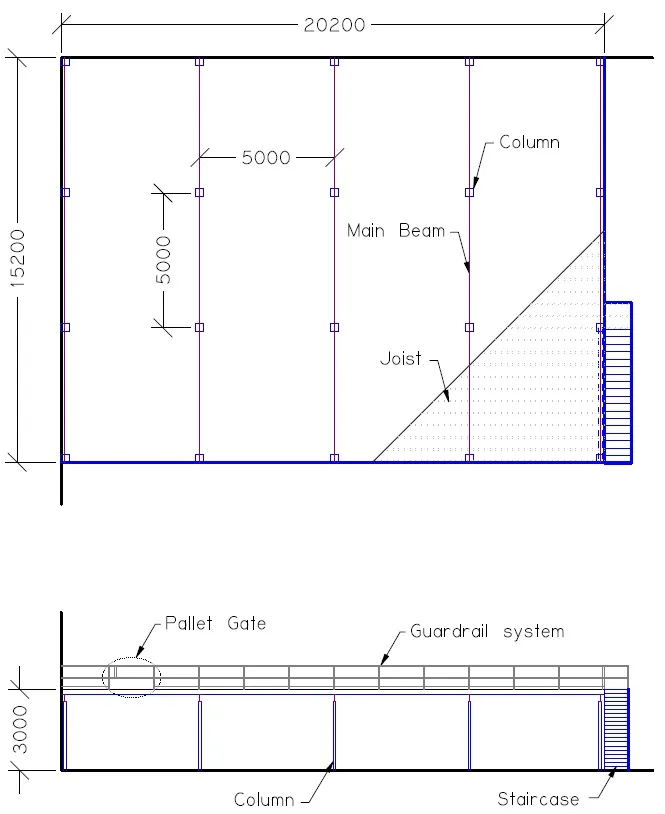 ---
8. Components needed to build a Mezzanine Level
a) Columns
Columns (or posts) support Mezzanine Floors. Posts are almost always square hollow steel tubes. At the upper end of the post are the main beams. The main beams sit directly on top of the columns.
b) Baseplates
The welding of a baseplate at the bottom of a post is common. A baseplate helps to spread the load over the concrete slab. Anchors fix the baseplate the slab.
c) Floor Anchors
Floor anchors fix the posts to the slab. They are anchored in to your concrete slab (or concrete footing) with floor anchors via a baseplate welded at the bottom of the post.
d) Beams
Main beams are the horizontal structural steel members, typically Structural I-beams (a.k.a. RSJ's) that sit on top of the columns.
e) Joists
Joists are the cold-rolled steel purlins. They sit on top of or within the depth of the main beams. Joist orientation is perpendicular to the main beams. Flooring sheets sit directly on top of the joists.
f) Flooring
Floor boards sit on top of the joists. Tekscrews fix the flooring sheets to the joists. Several different types of floor surface are available depending upon your application. These include tongue & groove floor board (commonly Industrial Particleboard or Structural Plywood) and open style steel grate.
g) Guardrail
Guardrail typically consists of a top handrail, mid rail (a.k.a. knee rail) and kick-plate (a.k.a. toe plate) is our standard guardrail design on floor edges to provide safety for personnel on and under the mezzanine level.
h) Staircases
Staircase design may consist of straight sections, landings and returns. Positioning is based on the operation, platform size and shape plus your warehouse layout.
---
9. Mezzanine Platform sub-structures
Structural Mezzanine Floor (Type A)
A structural steel sub-structure supports the deck in a Structural Mezzanine Floor. It has the advantage of typically being able to offer greater clear spans under your floor and hence greater flexibility with the placement of support columns. This creates opportunity for larger clear areas, or more free and open space, to accommodate specific work areas, machinery and stock movement.
Pallet Rack Warehouse Mezzanine (Type B)
A Pallet Rack Mezzanine, or Rack Supported Floor, typically consists of Pallet Racking components supporting the deck such as frames and beams. Pallet storage and shelving under the deck is common with this structure.
Extending these frames above the floor level has its advantages. For example, it provides a ready made means for including shelving above the floor.
Use of Longspan Shelving as another sub-structure material is also common. Less common is RUT Shelving.
---
10. Mezzanine Floor design considerations
a) FreeStanding Mezzanine Floor
As the name suggests, this style of Mezzanine Structure relies only on the columns for support. It can stand freely without any other supporting aid.
b) Wall Supported Mezzanine Floor
There is often the option in modern warehouses to use adjacent concrete slab walls (also known as tilt slab) for supporting your floor. As a result, this saves cost and removes the need for some columns thus improving the open area under your floor. A bracket, bolted to the wall, supports the floor.
c) Deck Design
Standard Deck design
A typical Mezzanine Floor deck design consists of joists laying on top of main beams.
Low profile Deck design
In some instances, particularly when warehouse roof heights are low, we can make savings on the deck thickness by fixing joist cleats to the web of the main beams and running the joists within their profile height. This design technique is often the difference in making the addition of a mezzanine area viable.
---
11. Mezzanine Platform accessories
a) Access Ladders
An alternative to a staircase is an access ladder. Some of the reasons you would choose an access ladder over a staircase is that they are cheaper and take-up less space. Access ladders are not as safe and are a more awkward means of access.
b) Pallet Gates
Pallet Gates consist of sliding, swing or roll-over access. Interestingly, their selection is dependent on budget and operation. Their use makes it possible to transfer palletised loads or cages up on to your platform.
c) Pallet Landing Skids
Steel plates protect the floor in the area where you deposit and retrieve pallets from.
d) Column / Post Protectors
As in Pallet Racking, column or post protection is available for protecting structural steel columns or uprights within pallet rack supported floor levels.
e) Catwalks
A raised horizontal walkway is the definition of a catwalk. A catwalk connects two platforms together or joins an existing stair landing to a platform.
f) Pallet Jacks
For most storage Mezzanines, a Pallet Jack, or Pallet Truck, will be needed and reside on top of the floor. These Pallet Jacks are used to place pallets in to position after they have been lifted up on to the Mezzanine Level. Similarly, they are also used to retrieve pallets and place them near the Pallet Gate in readiness for a Forklift or Walkie Stacker to collect.
---
12. Do you supply Mezzanine Floor Kits for sale?
Yes, Space Rescue can supply Mezzanine Floor Kits. Delivering materials in kit form is an option we provide on a case by case basis as some of our customers are qualified builders and experienced erecting this type of structure. We are able to deliver these kits to anywhere within Australia including regional areas.
---
13. FAQ General
How much does a Warehouse Mezzanine cost?
The cost for a Mezzanine Floor varies dramatically depending upon the size, shape, floor height, floor capacity, number of staircases, access ladders and pallet gates required, post, frame or wall support, sub-floor design, decking material and type of deck profile. Typically Mezzanine Floor prices range from $300+GST to $500+GST per sq. metre depending upon the floor size and complexity.
Are Mezzanines expensive?
A Mezzanine Floor is a relatively inexpensive capital works cost to create a new space or to change the use and function of an existing space within the confines of your warehouse, shed, building or factory. It is often an attractive option compared to the expense of relocating or acquiring additional business premises.
Does a Factory Mezzanine need planning permission?
In Australia, planning permission requirements vary depending upon where the Mezzanine is to be constructed. We recommend checking with your local council and authorities prior to understand what your local requirements are. Whilst this is not always the case, in general, if a floor is classed as a temporary fixture and it is to be used for additional storage; planning permission is not required.
---
14. FAQ Technical
How thick is a Mezzanine Floor?
The deck of a Mezzanine Floor consists of the decking surface, the joists and the main support beams. Typically the deck profile height will be around 300mm to 450mm in total thickness.
What is the standard height of a Warehouse Mezzanine?
In general, we like to build our Mezzanines with a top of deck height of around 3000mm. In saying that, it is possible to reduce the deck height to below 2500mm as long as there is at least 2000mm head clearance under the floor to comply with egress regulations.
What is the minimum ceiling height for a Warehouse Mezzanine Floor?
To comply with the Australian building codes, a Mezzanine Floor must be designed with a minimum head clearance of 2000mm above and below the floor.
How much weight can a Factory Mezzanine hold?
We can design your Mezzanine to suit the usage. The usage can dictate the minimum floor capacity requirement. For additional office space we would recommend at least 300 kg per sq. metre (approx. 3kPa). If your floor is to be used for additional storage, we would recommend at least 500kg per sq. metre (approx. 5kPa). We are also able to design for higher floor ratings if required.
---
15. Popularity
Recently we have been quite busy in Melbourne. Please register your email with us if you would like to be included in our product updates.
---