1. What is Steel Shelving?
Steel Shelving, or Office shelving, consists of solid steel sides, solid backs and adjustable shelves. You will find this style of shelving in many commercial and industrial applications.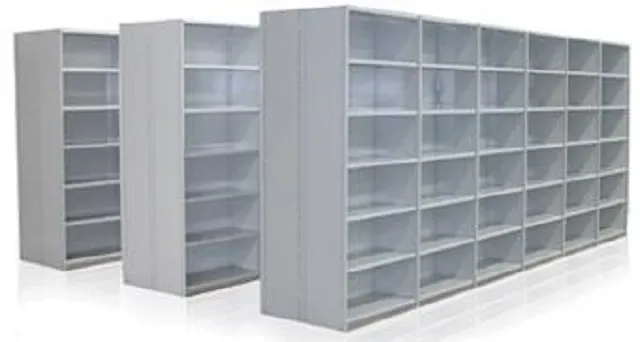 ---
2. Steel Shelving Sizes
Below is an outline of the sizes available new and used to suit the products stored and the particular application.
a) Frame Heights
1875mm, 2175mm and 2375mm (shorter and taller custom heights available upon request)
b) Bay Widths (a.k.a. shelf length)
750mm, 900mm, 1050mm and 1200mm
c) Shelf Depths (a.k.a. shelf width)
300mm, 400mm, 450mm, 600mm, 760mm and 900mm
---
3. Definitions
Two less common names used for this type are RUT Shelving and RET Shelving.
RUT Shelving
Where R.U.T. refers to Rolled Upright Type (Shelving).
RET Shelving
Where R.E.T. refers to Rolled Edge Type (Shelving).
The reference to rolled is due to the rounded front edge of the frame.
---
4. Parts Trays for Steel Shelving
There are a number of sizes of Parts Trays (with Dividers) to suit the various shelf depths in RET Shelving.
As you can see in the picture below, they have a handy little back stop that assist the user to place the parts tray in sloping poosition to make it easy to see and access what is inside. It also prevents the Parts Trays from falling out of the shelving.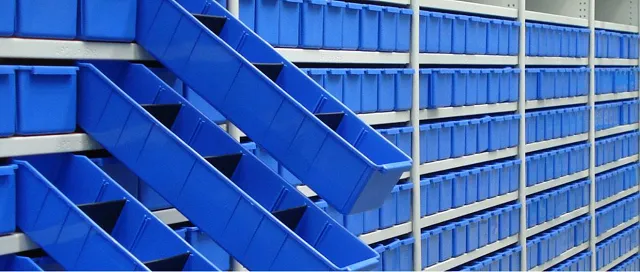 ---
5. Office Shelving
Two other terms used to describe this style of shelving are Office Shelving and Brownbuilt Shelving. The storage of files is the most common use in an office. The addition of dress panels makes it more attractive and suitable for front office and showroom applications.
---
6. RUT Shelving
RUT Shelving is also commmonly used in both industrial and commercial applications. Another product that is also commonly found in both commercial (including retail) and industrial applications is Longspan Shelving. Whilst RUT Shelving only uses a steel shelf, Longspan Shelving has more shelf material options.
---
7. Products related to RUT Shelving
You may also be interested in our Compactor Shelving (also known as Mobile Shelving), Storage Cabinets, Bin Rack, Brownbuilt steel shelving or our 2nd Hand Shelving.
---
8. FAQ
Are the shelves adjustable?
Yes, the intermediate shelves are adjustable up and down as they sit on shelf clips. The top and bottom shelves are not adjustible as they are bolted in place.
Is assembly available?
Yes, we can organise to have your shelving assembled.
Are custom sizes available?
Yes, we can provide custom frame heights.
Do you carry shelving dividers?
Yes, we are able to provide Wire File Racks.
---
9. Availability
Space Rescue have good quantities of Steel Shelving for sale right across Australia.
---