1. What is Second Hand Metal Shelving?
Second Hand Metal Shelving refers to a number of different styles of shelving including Steel Shelving (a.k.a. RUT Shelving), Coolroom Shelving, Dunnage Shelving, Gondola Shelving, Longspan Shelving and Pallet Racking.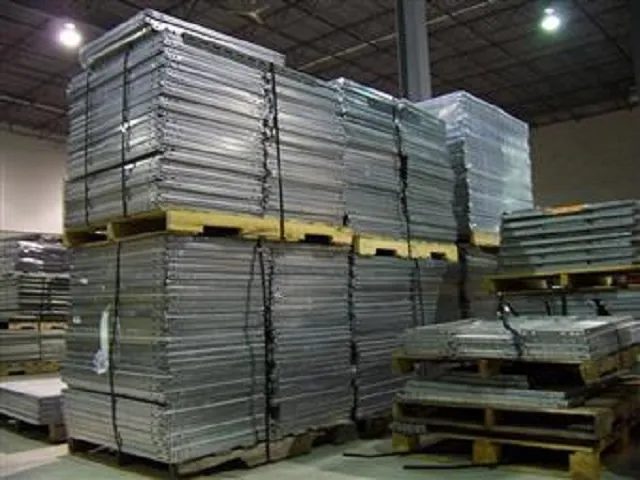 Steel Shelving, pictured above, is one shelving style that is more readily available in our 2nd Hand Metal Shelving range than others.
Metal Shelving covers both commercial and industrial applications. Industrial Shelving is a subset of the metal shelving range.
---
2. Second Hand Steel Shelving
This is also known as Office Shelving, RUT Shelving (Rolled Edge Type) and RET Shelving (Rolled Edge Type).
a) Sizes
The most component sizes in stock are:
Heights … End Frames and Backing Sheets
1875mm
2175mm … most common
2375mm
Lengths … Shelves & Backing Sheets
Depths … End Frames and Shelves
b) Colours
The most common colours available are light grey and off white.
c) Brands
Space Rescue has a good range of Used Metal Shelving. We like to be able to offer a large variety in very good condition in all of the major brands. These include Dexion, Colby, APC and Brownbuilt.
d) New condition
You may also wish to refer to our new Steel Shelving range.
---
3. Second Hand Longspan Shelving
For more information on, please refer to our Longspan Shelving page and Compactor Shelving page within our Storage Equipment section.
---
4. Second Hand Longspan Racking
This style of shelving refers to longer bay spans and is either made out of Longspan Shelving or Pallet Racking materials. Traditionally, the heights for the upper shelves are relatively low.
The shelves themselves often consist of metal decks made out of sheet steel or steel mesh.
Please refer to the above two links within this section for more information.
---
5. Similar Products
You may also be ineterested in our Used Compactus or Compactor Shelving, Used Metal Shelving and Used Pallet Racking pages within our Storage Equipment.
---
6. Availability
Space Rescue have Second Hand Metal Shelving for sale Sydney, Melbourne, Brisbane, Adelaide and Perth.
---