1. What is a Compactor Shelving unit?
A Compactor Shelving unit (or Filing Compactor) is often referred to as a Compactus storage system. It provides a very space efficient and high density means for filing and storage.
Instead of many aisles between rows of shelving, this clever design requires only one aisle space to service all of the mobile shelving bays.
Simply put, it is shelving on wheels that runs along tracks.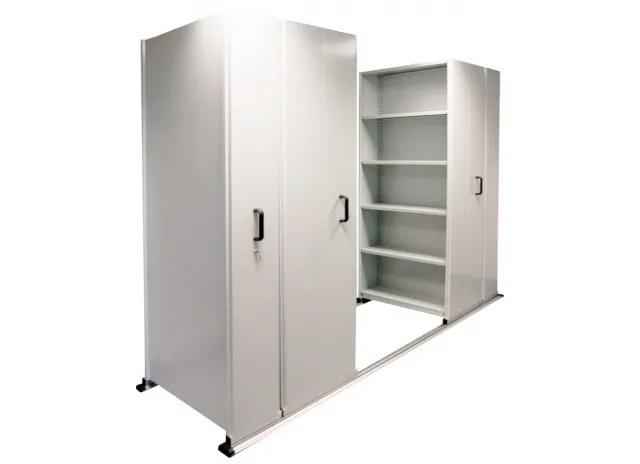 ---
2. Overview
Space Rescue offer a quality selection of Compactor Mobile Shelving … in new or used for sale with either handle or wheel drive … to fit into any space. A fantastic option to increase for filing and storage!
---
3. Compactor Shelving Dimensions and Sizes
Several different heights, bay widths and shelf depths are available.
a) File Compactor Height
Typically the height is between 1800mm and 2400mm with 2175mm being the most common. In saying that, we are able to supply frames at almost any height.
Standard
Heights

:

It is necessary to fix the top and bottom shelves in place with nut and bolt. This provides rigidity to the bay. Supporting the intermediate shelves on clips provides the necessary means for shelf adjustment on a slotted side frame.

After the number of shelves per bay has been chosen, the average clear vertical shelf height can be calculated.
b) Compactor Storage Width
The length of the shelf determines the depth of the unit (from the front to the rear) with 900mm and 1200mm being the most common plus 750mm and 1000mm are also available. Greater unit depths can be created by using tandem or multiple bay depth configurations. This is achieved by connecting shelves end to end through a common side panel to achieve a greater unit depth. For example, a unit depth of 1800mm is made up of 900mm plus 900mm shelves joined end to end.
Standard Shelf
Lengths

:
c) Compactor Storage Length
This is determined by a combination of single sided and double-sided stacks plus an aisle space. In principle, the sum of these lengths is equal to the track length. The depth of the shelves, typically between 300mm and 600mm, determine the width of each stack. An aisle of at least 600mm to 700mm is most common.
Standard Shelf
Depths

:
---
3. Drive Type … Handle or Wheel?
A simple handle is the most common means for moving smaller units of single bay depth.
The limitation with long or deep bay configurations is the movement of the resulting weight of the multiple bay stacks. Deeper and heavier units often require some form of mechanical advantage to make them practicable.
This takes the form of a drive wheel connected by chain or belt via a pulley to the drive wheels. A more expensive alternative to the manual drive systems is an electric motor with key pad controls.
---
4. Conversion from Handle Drive to Wheel Drive
It is relatively easy to convert your 'handle' driven Compactor to 'wheel' drive. We simply need to change the front track that the unit runs on and add the wheel drive consoles. Alternatively, we can supply this front 'wheel drive' track with your 'handle drive' unit to make it less expensive to convert at a later date if you choose to do so.
---
5. Compactor Shelving Unit Configuration
The most common configuration is to have two single bays at either end with one being static and the other mobile.
In between these bays you will commonly find a combination of mobile double-sided and mobile single-sided bays. You may choose to have the end single-sided static bay on the left or the right hand side depending upon the floor layout,
Closing the Compactor will expose floor tracks at one end. The exposed floor tracks will be at the end that has the single-side end mobile bay.
Generally it is wise to have the mobile end away from a high foot traffic area so the tracks do not pose a track hazard.
---
6. Explanation of Other Terms
a) Compactus
There is some confusion with the use of the word Compactus. It is actually a brand name. The most common generic terms are Compactor and Mobile Shelving.
b) Mobile Shelving
Mobile Shelving is exactly as it's name suggests. Its shelving is mobile. Similarly, Static Shelving is fixed in place or stationery.
Interestingly, the term Compactor is used to describe a Steel Shelving system that has a combination of both mobile and static shelving bays.
c) Lateral Mobile Shelving
Another style of shelving system exists for very narrow spaces where security is not such an issue. Open bays of shelving face outwards towards the aisle. It consists of a line of shelving bays that are mobile that sit in front of a line of shelves that are stationery.
Moving the front mobile bays from side to side is necessary to create a clear space provides access to the rear line of static shelving.
Another term given to this style of shelving is Lateral Storage Compactor or Side to Side Compactor.
d) Longspan Storage Compactors
There is an alternative to using RUT Steel Shelving internals.
Placing Longspan Shelving frames on runners enables you to turn it in to mobile shelving.
---
7. Thoughts on Storage Compactor Mobile Shelving
a) Why is Compactor Shelving still the ultimate in space saving?
When you have a bookcase, you need one aisle space in front of it to enable you to gain access to it. With a Compactor, you can access multiple bookcases with just one aisle meaning you can fit more bookcases in the one area. There is no limit to the number of bookcases if you have a large area as long as you leave space for just one aisle. The trick behind this is to put these bookcases on wheels so that you can move the aisle to the bookcase you need access to.
b) Why are Compactor Shelving systems so versatile?
Compactor Shelving systems are extremely versatile as they are modular in design. As a result, filling the available footprint is as easy as using different sized modules. You will be able to fill up an area as the modularity of the Compactor design enables it to replicated in both length and depth. There are a number of standard heights, lengths and widths for each module (or bay) to enable you to maximise the space that you have available.
Compactors may be used for a variety of applications.
---
8. Availability & Popularity
Space Rescue have Compactor Shelving for sale to almost anywhere within Australia. This includes New South Wales, Queensland, Victoria, South Australia, Northern Territory and Western Australia. Please check with us for lead-times.
Recently we have been quite busy in Sydney and Melbourne.
---
9. Similar Products to Compactor Shelving
Please refer to the Steel Shelving and Mobile Shelving sections for more information on Space Rescue's shelving range.
---