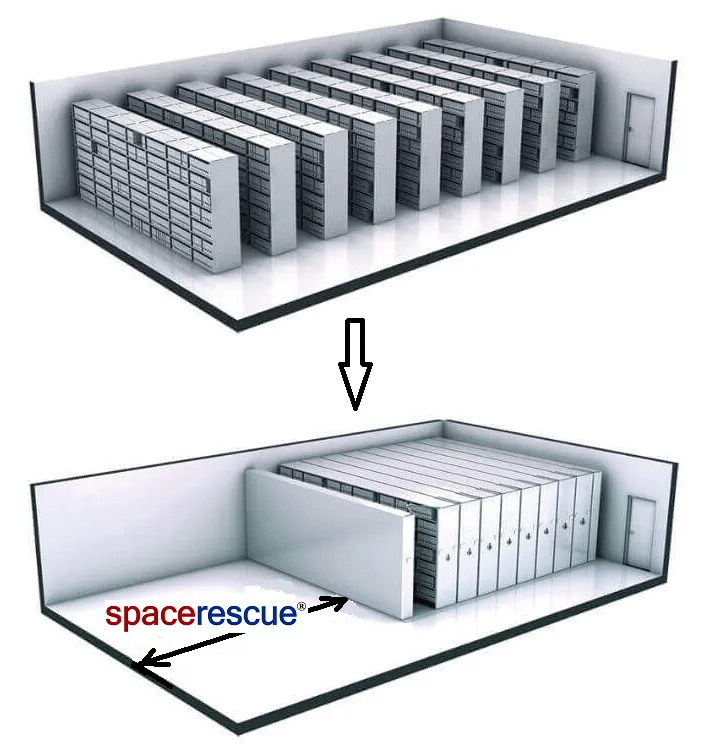 What is Mobile Shelving?
Mobile Shelving is essentially a shelving unit that is designed to be moved across the ground on wheels or using runners and a guide track.
Benefits of this style of shelving.
The benefits of this style of shelving is that you are able to fit more shelving in to a space than if you were to use a conventional static shelving system. Compactor Shelving is a dense storage system that enables you to do more with the space you have. Ideal in most environments where space is at a premium.
It's to do with the aisle space.
You may ask, how is this possible? With a static shelving system, if you lined up static shelving stacks with an aisle between each, the overall system length would include all of the individual shelving stack depths plus the all of the aisle widths between each shelving stack.
Here is how you rescue the space!
Now, if the shelving stacks were mobile, you could essentially place each stack directly adjacent the others and when you needed to access a particular stack you would simply create an aisle opening between the two stacks you needed to access. In essence, this saves a number of aisle spaces as this dense storage system only requires one aisle space.
---
Compactor Shelving
Please refer to the Compactor Shelving section for an overview. There is the option of new or used Compactus.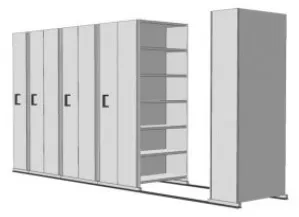 RUT Shelving
Traditional Compactor Shelving is simply RUT Shelving (or Steel Shelving) with runners and tracks. That is why there is an increase in the overall height from a standard RUT Shelving frame height as an additional 75mm is gained due to the runner and stack.
Longspan Mobile Shelving
It is also possible to create Compactor Shelving out of Longspan Shelving. Unlike traditional Compactor Shelving, Longspan Mobile Shelving does not require double-sided bays for the internal mobile stacks. These stacks can simply be made wider (ie. deep shelf) so that access up to half the shelf depth can be achieved from each side.
Coolroom Mobile Shelving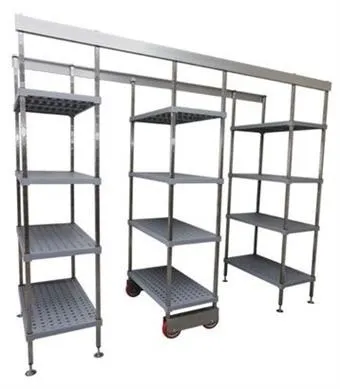 In wet and cool environments, such as in Coolrooms, where the floors are often hosed down; the standard runner and track system will struggle. Furthermore, the standard steel shelves will not be ideal. It is more practicable in these applications to use Coolroom Mobile Shelving that is purpose designed for these applications.
Mobile Security Cage
Please refer to the Trolley (not ready yet) section for more information.
Related Products
Please refer to the Shelving page (not ready yet) for an overview of Space Rescue's Static Shelving range.