1. Overview
Industrial Shelving includes a range of shelving types used in commercial applications. They include Pallet Rack Shelving, Long Span Shelving, Coolroom Shelving and Steel Shelving. The applications referred to are warehouses, factory units, coolrooms and factories. Below is an outline of the types of shelving included.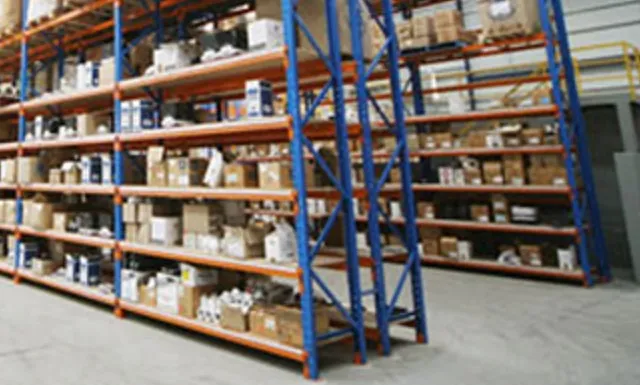 ---
2. Pallet Rack Shelving
Pallet Rack Shelving is often thought of as shelving for pallets or palletised goods. There are other applications for Pallet Racking including standard flat shelving. Adding specific product to the beams creates a flat shelf surface. These products include shelf boards, board stiffeners and mesh decks.
The picture above is a good example. It shows the use of boards on the lower levels of the pallet racking bays.
---
3. Steel Shelving used in warehouses
Steel Shelving is an example of a shelving product used in warehouse applications. Offices use this shelving as well.
---
4. Long Span Shelving for warehouses
Long Span Shelving is another type of product that is used in warehouse applications. It is a lighter version of Pallet Rack Shelving.
---
5. Coolroom Shelving
Dunnage Rack and Dunnage Shelving are two examples of shelving used in commercial chillers and freezers.
---
6. FAQ
What is Industrial Shelving?
Industrial Shelving refers to any shelving type that can be used in an industrial environment such as a warehouse, factory or an industrial unit,
---
7. Availability
We can deilver Industrial Shelving right across Australia. You may also collect from one our capital city warehouses.
---